Ini ialah kucing aku apang. Apang ni aku selamatkan kat parking lot kat tempat keja aku. Ntah camana dia boleh naik sampai kat tingkat 4, pastu melekat kat tepi dinding, ketakutan…. so pitiful rupa dia masa tu. That's why aku bawak balik, tak sampai hati beb! Takot nanti kena lenyek dengan keta… ohh tidaakk! So bila dah bawak balik , sudah kasi makan dengan banyak, sudah gomok, sudah akil baligh, well not quite akil baligh, dah hantar sunat. Rupanya vet tak kasi keluar sumer teloq dia, so sekarang dia ada macam sewel sikit…. ye lah, napsu ada tapi tak daya mau kasi naik agaknya kan…. dah asyik la nak memancut keliling rumah… on top of that, dia ni rabun uollss…. dia ni lah kencing kat kaki aku dah berapa kali, jalan2 langgar laki aku (tau lah hubby i tu black kaler kan..) tapi overrrr, orang besar gajah (aku lerr) tak nampak… pastu dia selalu jadi mangsa buli kucing aku yg si toyot tu… jalan penyelesaian ialah masuk dalam kandang…. tak koserr nak jadi referree…
Bila dah masuk kandang, habit pulak, meraung-raung mintak dibebaskan…. Dia memang kitaorang keluarkan tiap hari dalam 1/2 hour gitoo, tak boleh lama2 nanti galak dia memancut keliling rumah pastu kena belasah dengan toyot…. Ingat nak amek video dia 'nyanyi' tapi hampeh.. bila aku ada, pandai pulak sonyap… yang memekak ialah bapak2 orang yang main bola kat padang belakang rumah aku… MEMOKAK jo!!! Pastu kaki bangku, sepak bola masuk rumah orang, nyebok bagi salam jerit2 suruh amek kan bola dia… you think i have nothing better to do ka??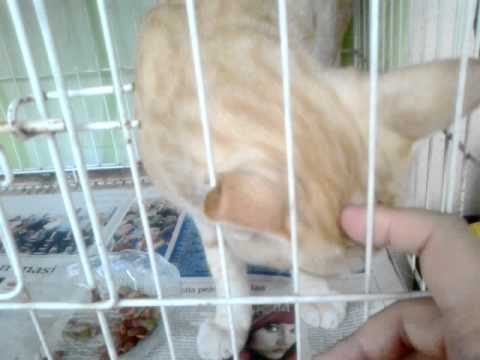 * Aku baru lepas petik daun selasih, itu yang dia cium2 jari… kucing suka ka bau daun selasih? Cat nip tu daripada apa ek?
** Habit dia, suka menghempas diri kat jaring kandang dia tu, aku takut jatuh tergolek kandang tu, dengan dia2 sekali tergolek anjing nanti…padan muka lu mat, kalau siang ada lah orang nak tolong selamatkan, malam kalu..? Selamat Malam la….